About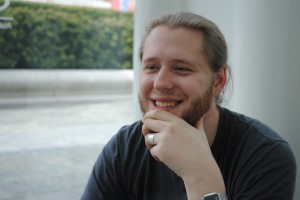 Photo by Jeriaska
My name is Mattias Häggström Gerdt. I am the founder, owner and sole employee of my company Anosou Music. Through Anosou Music I'm working as a freelance composer, primarily for games. I also work full-time as what we like to call "Music Maker's Super Friend" at Propellerhead Software where I travel the world to spread the Propellerhead gospel, am in charge of social media and create unique content for the makers of my favorite music software. If you're interested in my services as a composer I suggest looking at the Services section in the menu for just a few examples of what I can do.
After I joined OverClocked ReMix for the soundtrack to Super Street Fighter II Turbo HD Remix it opened the doors of game music wide and my lifelong dream of being a composer for games suddenly felt achievable. Since then I've scored numerous games for multiple platforms in a wide variety of musical styles. My work with Oxeye Games on Cobalt was nominated for the "Excellence in Audio" award at the Independent Games Festival and two games I composed music for, Kaleidoscope and Artoon, were finalists in Dream Build Play. I'm currently scoring Scrolls by Swedish developer Mojang (known for Minecraft) and Castle Story by Sauropod Studio, both together with partner-in-composition Josh Whelchel. Beyond this I've also done plenty of arrangements, both for other composer's soundtracks and for my own projects. This includes a complete, award-winning doujin arrange album called THE ANSWER – Armored Core Tribute Album - that reached Comiket in Tokyo, Japan. For more detailed information on my previous and current work, please check out the Credits section or Music.
When I'm not making music I enjoy listening to music, not wearing pants, playing shoot 'em ups, Japanese RPGs, hack'n'slash games and… well, most other games really. I also buy and collect game music CDs, it is research after all. While I do all this I tend to spend a lot of time on IRC (look for me on irc.esper.net) and Twitter, satisfying my need for human interaction without leaving the comfort of my home studio. This doesn't mean I'm a stranger to grabbing a drink now and then though so feel free to buy me one if you're ever around when I'm around!
To get in touch with me, do not hesitate to send an e-mail to mattias [a] anosou [dot] com or tweet me @anosou